New Initiative: Clergy Care Team
The vision of this team is to be encouragers to clergy, provide various kinds of resources, to be available to assist and raise up dynamic clergy and respond to needs of our clergy.
Keep this new initiative in prayer as we continue to build this ministry. Please be sure to come back to this page as we will be updating and posting more details very soon!
Clergy Care Team Members
Chris Bistline
Mark Brechin
Cathe Evins
Andy Smith
Carl Westbrook
Kelli Williamson
Zettie Woodson
-=-=-=-=-=-
Resources for the new year:
January 2021
Preaching Workshop with Dr. Alyce McKenzie

This workshop will explore how to preach the Lenten texts of Mark and John to reach four audiences of contemporary people: the "bewildereds," the "been arounds", the "not been arounds" and the "bleeding."
It will equip participants to shape sermons that allow the light of Easter to shine through the shadows of Lent.
The registration fee is $20. This is for anyone (Clergy or Lay) who preaches regularly.
For any questions, please contact Rev. Karen Horan at khoran@riotexas.org.
Register: https://www.eventbrite.com/e/preparing-for-joy-preaching-toward-easter-in-the-season-of-lent-registration-132341861069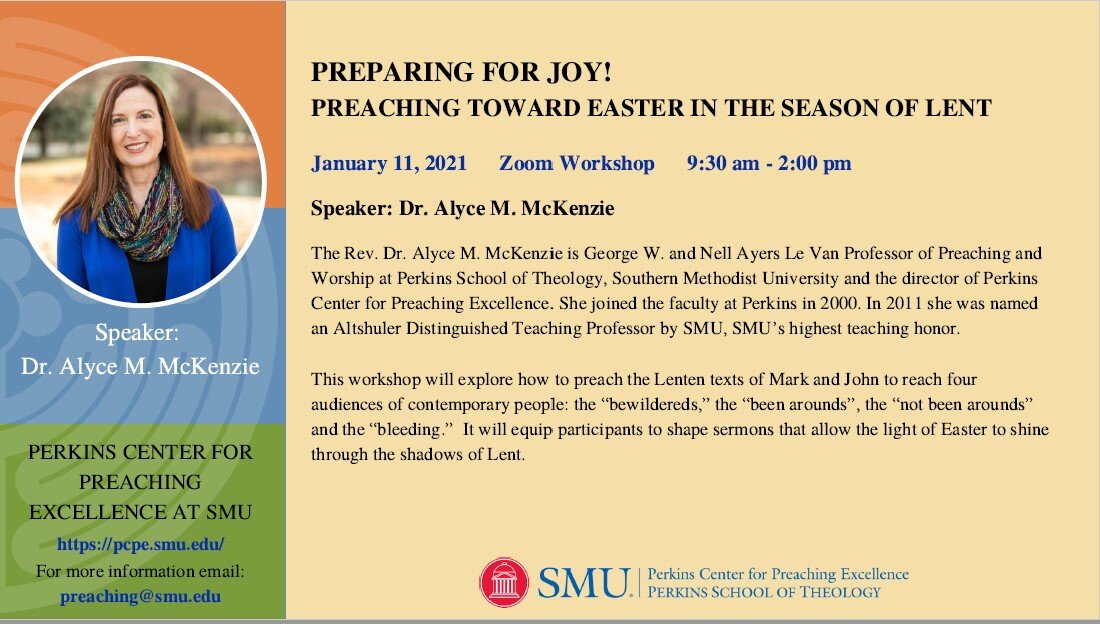 February 2021
Wespath Virtual Clergy Event 2021
Continuing Education and tips on improving the 5 dimensions of well-being.
May 2021
Festival of Homiletics is online and FREE:
"At the 2021 Festival of Homiletics, you'll hear respected and thoughtful speakers present on the theme: Preaching for the Future Church.
Since this year's event is virtual, and we want to welcome as many attendees as possible, you can register to view the main sessions for free.
Purchase the recordings for full access to on-demand content you can view anytime $75:
All sessions in audio and video formats
Live workshops
Bonus sermons and lectures from top speakers
Private social networking with other pastors and leaders
See you in May!